BREAKING BLAZERS NEWS:
Brandon Roy has a slight meniscus tear in his right knee
and is out for the final two games of the regular season. The team says he'll be day-to-day during the playoffs, but I'm pretty sure he's out for the season. Wow.
Well, did you expect anything else? In what is arguably the strangest season in the Portland Trail Blazers' 40 year existence, it only makes sense that their best player, franchise savior, and three time All-Star would go down almost exactly one week before the playoffs start. So, (gulp) let's examine this. First off, it's not the worst news in the world—the tear is only slight, and there is a chance he'll play during the playoffs. Still, I have an feeling that it might be more serious than team officials are letting on.
You see, Brandon Roy and I now have something in common: I tore my meniscus playing basketball last summer, and I was out for over two months
. Of course this situation is different, as Roy has the best doctors in the world at this fingertips (kneecaps?) and is a NBA star. I couldn't even make my varsity basketball team. Since I'm here early and most of you probably have no freakin' idea what or where the meniscus is, let's do some learning together.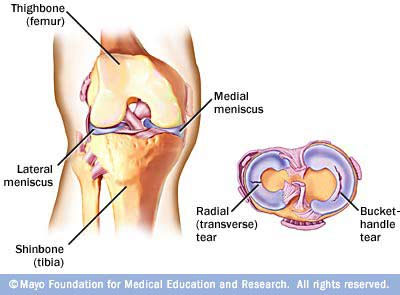 WHERE IT IS: See the picture above!
WHAT IT DOES: The meniscus serves as a shock absorber between the tibia (shin bone) and femur (thigh bone). The meniscus helps to spread the load of the body's weight.
WHAT IT ALL MEANS: This isn't the first time Roy has torn his meniscus. When Roy was a junior at the University of Washington he had a large portion of his meniscus removed (pretty common in sports-related injuries) during surgery. So in the long-term this could be something to worry about. Roy told the media before the game that he WILL have surgery at some point this summer but will try to test it this weekend. And I can tell you one thing from experience: it's really, really hard to move laterally with this injury. I continued playing softball for a few weeks after I hurt my knee but any time I tried to plant my foot and turn right or left I'd get a sharp, uncomfortable pain. I wish you luck, Brandon, but at this point I suspect he's out for the playoffs.
This has got to be tough, and word is that Roy was pretty depressed after hearing the news. Still, we have a game to get to! And a big one at that. Here's my original opening:
Welcome, my friends, to the Wild Wild West(ern conference). The season ends on Wednesday, but things are so tight in the West that nothing will be set until late that night. What we do know is that tonight's game against the Seattle Supersonics, I mean Oklahoma City Thunder, is the MOST IMPORTANT GAME OF THE SEASON. As of today, both teams are tied with a 49-31 record. A Thunder loss tonight would assure the Blazers at least the No. 7 seed. But if the Blazers lose, they are looking at a likely first round matchup against the dreaded Los Angeles Lakers. I know the gritty win yesterday was awesome, but do you really think Kobe will miss two FTs again in the closing second? Meanwhile San Antonio also has a 49-31 record, and if the Spurs win against Minnesota, they also clinch at least the seventh seed and automatically drop the Thunder to eighth. Phew, that's a lot to take in. The Blazers can only hope that Kevin Durant is actually as stoned as he appears in this picture.
Well, at least we get a good version of the Star Spangled Banner. Syesha Mercado of Dreamgirls and American Idol has a set of pipes, and I'm not afraid to admit I had no idea who she was until one minute ago and had to look her info up. Byron Beck knows her because I see him walking off the court with her right now. Stardar!
FIRST QUARTER:
11:41: Yeesh, that's an ugly looking foul shot by Jeff Green. He clangs the second one, too. Can anyone make a FT versus this team? Maybe it's some sort of reverse payment for all these injuries.
9:34 - The one good thing that comes out of this injury (can't believe I just typed that) is that now the Blazers kinda have to run. Without Broy the offense is pretty limited in the half-court, and when Rudy is healthy he's amazing in the open court. This is the type of game where LaMarcus Aldridge should score 25+ points. He's got a height and quickness advantage against Jeff Green, who's a nice player but really more of a small forward.
8:33 - Rudy with a beautiful full-court pass to LaMarcus for the dunk! Blazers lead 10-6 early on.
7:29 - DURANT WATCH: 7 points in the first five minutes. This guy is just incredibly fun to watch. If it weren't for Jerryd Bayless he'd probably be my favorite NBA player. I mean, you have to love a skinny 21-year-old kid who still has acne.
4:21 - Camby hits his second long jumper of the night, and it's time for my second impassioned ode. Where would the Blazers be without Camby right now? He brings defense and effort and heart every single night, grabs 10-17 rebounds, blocks a few shots, and is a dang good passer when he gets the chance. Plus he bought the entire team In-N-Out Burgers last week after the win in Sacramento. That's a center I can get behind.
2:46 - Kevin Pelton of Basketball Prospectus picked his All-NBA Defensive teams today, and he gave point guard Andre Miller an honorable mention. I'm sure the statistics support the shoutout, but Miller is kinda slow-footed. Russell Westbrook blows past him as I type this for a crazy dunk. That kid needs to get in the dunk contest, stat. Blazers still up 22-20.
2:05 - Big round of applause for Webster as he checks in! That's what one good game does for you. I don't trust Rudy to play more than two solid games in a row so I think Marty could be the real beneficiary of Roy's injury. He was drafted as a shooting guard and I've never understood why Nate is so hesitant to play him there.
1:37...and Webster fouls Durant as he's shooting a three. Terrible, terrible foul. Durant is straight money from the line: he's shooting 100% on free throws this year. Seriously, look it up. I have such a big man-crush on this guy that I ruined my fantasy basketball season by trading Josh Smith
and
Derick Rose for him. Silly Michael, always has the worst crushes. I should have pledged my love to Oden three years ago.
0:04 - The Blazers faded when the bench came in. I can't emphasize that point enough. OKC goes on an 8-0 run to end the quarter and the Blazers are down. Too much JayBay dribbling = shot clock violations and air balls.
SECOND QUARTER:
10:34 - I love you Papa Howard, but you look oldddddd tonight. Slow rotating on defense and that last shot was almost as ugly as an Andre Miller three pointer.
10:15 - Umm, there's a bird flying around in the Rose Garden. This can't be a good omen.I hope Randy Johnson is lurking around the locker room ready to take it out.
9:51 - Dang, James Harden and his beard posterized Webster. OKC pushing the lead to double digits as Durant sits with an ice pack around his leg. Torn meiscus! Torn meniscus! Nah, probably just a cramp.
7:57 - DURANT WATCH: Whoa, the star gets called for an illegal screen! That's two fouls on Durnat, but he's staying in the game for now. Scott Brooks will probably win Coach of the Year so maybe he know what's bird.
BIRD WATCH: IT'S A BAT! Or maybe a bird. We can't tell from press row, but Kevin Pritchard is on the phone with Manu Ginobli for some advice. John Hollinger is tweeting that it's a bird, but who knows.
6:21 - Back to this exciting game! To be honest, the Blazers look really flat after that great opening. Camby and Dre Miller are scoring but tonight Rudy is playing like Free Throw Guy. Actually, I bet Free Throw Guy could shoot better than him. OKC up 42-34, and press row is still trying to figure out what the hell is flying around this arena.
5:15 - I love everything about Andre Miller's game. He's not fast, or a particularly good dribbler, but somehow he always ends with wide-open layups. I think he just used the classic "look, it's a bat!" psych-out on Westbrook.
3:46 - Ya know, LiveBlogging these Blazer games is really an underrated talent. I love basketball and spend way too much of my free time thinking about trades and playoff scenarios and how amazing the Drexler-era Blazers would have been with a young Sabonis wrecking havoc. But still, sitting at press row, it's hard not to get distracted by the chilaquiles recipe that Dave Depper just posted on Facebook. Damn ADD, always getting the best of me!
2:24 - Webster hits a straight away three to cut the OKC lead down to five. He's got 6 points right now, while Rudy—starting his first game of the year—has the same number of points as Brandon Roy. I'll let you figure that one out.
0:46 - Papa Howard knows when he commits a foul, and no man that old will ever be able to take a charge on the wing against Thabo Sefolosha, the world's quickest man named Thabo.
0:12 - Durant is on the bench with two fouls, but sadly LaMarcus Aldridge has three in the half, which has limited him to, like, 10 minutes. That's got to be the non-Roy story of the half. Can the Blazers come back without their star to win this pivotal game? I guess we'll see. Sadly Brad Stevens (as played by Topher Grace) isn't here on the sidelines, so I'm rooting for for the bat to bite Durant before he returns for the second half.
THIRD QUARTER:
11:24 - Good start to the quarter, as Nate immediately goes down low to Aldridge. That's what I like to see. No more jump shots! I like to imagine that's what he's screaming about the whole game. Well, that is unless Camby is shooting 'em because he can't miss tonight. Camby cuts the lead down to 4 and he's the Blazers leading scorer with 15 points on 6-8 shooting.
10:10 - Make that 17 points! Pretty sure that's his Blazers high. A Miller steal leads to a quick outlaw and easy Flying Frenchman dunk. Suddenly this game is tied and the crowd is back into it.
9:45 - Wouldn't it be funny if I came to the next game with an "I Love Pendergraph" sign? With sparkly shit and puff paint and a lot of hearts? I know every girl in this city loves Rudy, but I'm here to tell you that Pendergraph is funnier and really the most dateable Blazer. I mean, have you seen him dance before the game?
7:51 - Marcus Camby is taking over! This has to be one of his better offense games in years. Game still tied at 55, just like the teams are tied in the standings.
6:55 - I'm sorry to swear here (hi, mom!) but FUCKING A Kevin Durant is good. He just hit a three from like five million feet behind the line with Batum straight in his grill. Luckily the Blazers have their own answer in Marcus Camby, who socres again on the break and has 21 points. Now he only needs to score like 1,000 more tonight to pass Durant for the scoring lead.
6:30 - My friend Ian just texted me a question: "Camby best trade in history?" He's prone to hyperbole—this is a guy who said earlier this year that Andre Miller has "the ugliest shot in the entire world"—but he's got a point. Damn, where would this team be without him? If I'm Kevin Pritchard I'm on the phone with Camby's agent trying to work out a deal this second. Also, maybe he knows where Roy can get a good deal on an extra meniscus.
6:10 - All season I've been screaming for Nate McMillan to be more vocal on the court, and suddenly he's turned into a technical foul machine. Is that three games in a row? We have a mini-Rasheed on our hands. Speaking of which, did everyone read Bill Simmons' love letter to 'Sheed? It contains my favorite story in the history of stories, about a man named Reuben Boumtje Boumtje who was just trying to get in some extra practice when Sheed and Bonzi decided to play a little trick.
4:35 - Webster continues to win my heart by doing the little things, like setting good screens and actually CUTTING TO THE BASKET. I hope JayBay thanked him for making him look good.
3:58 - The game is once again tied on a nice little hook from LA, but that play was all Camby. Offensive board and a laser pass underneath to LaMarcus. Camby has 3 assists to go with his 22 points but he'd probably have more if Bayless could ever hit an outside shot.
2:10 - And the Blazers come out of a timeout with a rushed Webster jump shot. I can't imagine that's what Nate drew up in the last three minutes. Still, the Blazers are down by only one point and have neutralized Durant this quarter.
1:34 - Rudy hits another three, and Patti Mills is doing a little R. Kelly "Step in the Name of Love" dance in front of the bench. I like to think that those two are best friends because neither one can understand what the other person is saying.
0:04-0:01 - THAT'S MY BOY, BAYLESS! A missed Thunder shot turns into an incredible sprint from end-to-end for a layup at the buzzer to give the Blazers the lead at 73-71. Good time to get your first bucket of the game, huh? This is also an appropriate time to mention that I picked #4 as my softball number in honor of Bayless. I also got my last named tattooed on my back. What. Watch out for me summa 2K10, y'all!
FOURTH QUARTER:
10:45 - James Harden has a nice beard, but would you put him on your
NBA All-Beard team
? My top candidate for the All-Beered team? Gotta be Sheed, with Vin Baker as an honorary member and Don Nelson as the permanent coach.
9:25 - Back to some real basketball talk. If I was an NBA GM (and trust me, I think about this all the time) I would do whatever I could to trade for Jeff Green. He's got a reasonable contract, he plays good D and can hit the three, and he's one of those glue guys that all winning teams have to stock up on. Maybe Sam Presti wants a Rudy-Pendergraph package? Remember, Pendy can DANCE.
7:58 - The Blazers are surprisingly effective on offense this quarter, but the defensive effort isn't quite there. I blame that Camby being on the bench. OKC leads 84-81 but it's been back and fourth for the last six minutes.
7:42 - Camby is back in, and he quickly makes his presence felt with a tip him. That's 24 and 10 boards. A year ago could you imagine the Blazers being led by Camby and Dre Miller? Together they are almost as old as Greg Oden.
6:46 - Dre to Camby for another dunk. I can't say enough good things about this guy. I'm buying his jersey on my way out. Blazers up 85-84.
5:45 - Oh, I think Durant just got lucky there. Dre totally broke his angles but the refs call the foul on Ibaka instead. Also I don't have any official stats but Durant has scored in like 10 minutes. Knock on wood...
4:40 - James Harden just pulled a Jarret Jack (stepping out of bounds right before shooting the three pointer to take the lead with less than five minutes remaining in the game).
Best scene of the night: the little kid holding a sign saying "Plunder the Thunder." Hey, that's pretty clever!
4:00 - Camby hits to free throws to more than double his previous high as a Blazer. Talk about stepping up.
3:25 - Batum gets a wide open dunk off a bee-yoo-tea-full set offense play. Move on offense and Dre will give you the ball. Dre socres the next time down and suddenly the Blazers have a commanding nine point lead. So much action it's hard to keep up! Sorry, devoted followers.
2:43 - Whoa hard foul on the fast break by the Thunder. Couldn't see who it was but I'm checking the replays, it's gotta be a flagrant. LaMarcus is lucky he didn't get hurt on that one, and he still looks shaken up missing the first FT. The crowd is really riled up now, especially the guy behind me in the press box who's screaming "bloody murder!"
2:30 - I have no doubt that Marcus Camby can cure cancer.
1:15 - Again it's all about ball movement. Dre Miller has just 7 assists tonight but he's got at least 15 hockey assists, making the pass that leads to the pass to the basket. Durant looks pissed as his team is down by 8 points.
1:07 - Camby's 30 points are his most since Dec. 2, 2005, according to the fine folks on Twitter. Who would have thought that Camby would go point-for-point with Durant? It's pretty obvious he's getting the game ball.
0:46 - Bill Simmons tweeted that Portland has the best best home crowd in the league. And that Portland needs a real announcing crew. I bet Rebecca Haarlow is in tears right now...
Oh, duh, score. Too many things going on. Blazers up 101-95 as Durant throws it out of bounds. Tough second half for him, and lots of credit go to Batum for shutting him down.
0:15 - The ENTIRE crowd is chanting "MAR-CUS CAM-BY!" I feel like I'm witnessing a real moment here. Trying really hard to keep my journalist hat on and not yell with 'em. What an incredible game he's played tonight. Definitely one of the better Blazers performances I've ever seen—and this is coming from a lifetime PDXer.
And it's over, folks! The Blazers win this serious gut-check of a game, and the win guarantees that they finish at least 7th in the West and avoid the dreaded first-round matchup with the Lakers. Can you believe this team has 50 wins? Incredible season to be a part of. Hopefully I'll be here for at least one playoff game on press row. If not, I'm totes making that Pendergraph sign.