Just a quick update that tonight at Backspace, singer-songwriter Catherine Feeny and local pop outfit the Golden Bears will share the stage at our monthly interview/performance show, Portland Makes Music. This one came together later than usual, but we're especially excited to invite all of you under-21 kids (and the over-21 drunks) down to the show, as it will be held at Backspace this month.
The Golden Bears
is Julianna Bright and Seth Lorinczi, a babymaking local power-couple who have graced most of Portland's stages now with their melodic, atmospheric and (to add one more "ic") oft-psychedelic sound. You can listen to their very fine latest record,
Wall to Wall
,
right here
. The duo will be playing a laid-back set at PMM, in contrast to the rowdier set you'd find, say, Sept. 10th at Holocene with Casey Neill and the Rainy States (nice lineup!)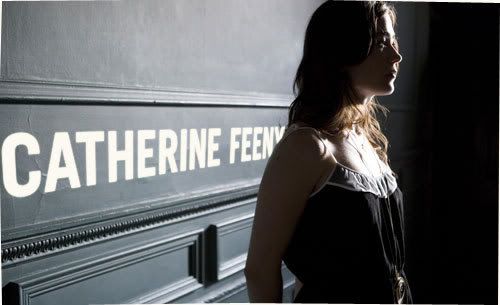 Catherine Feeny is a Portland import from, well, just about everywhere. She's done stints in Los Angeles and the UK, carving out a successful career as a clear-voiced singer-songwriter. Feeny's latest EP,
Empty Buildings
, can be
streamed here
. But she was also nice enough to share a brand new song with us. This one's called "Bleeder," and it's a haunting, dark tune with some gorgeous arrangements in it. We get more stoked by the minute to hear her perform a solo set with us at Backspace.
[audio:bleeder.mp3]

We hope you'll join us tonight. Show starts very promptly at 9:30 pm, and with only two acts, it'll be over before your bedtime! Yup. 9:30 pm sharp. Free. Backspace. All ages. Awesome
Links:
Catherine FeenySpace
Golden BearSpace