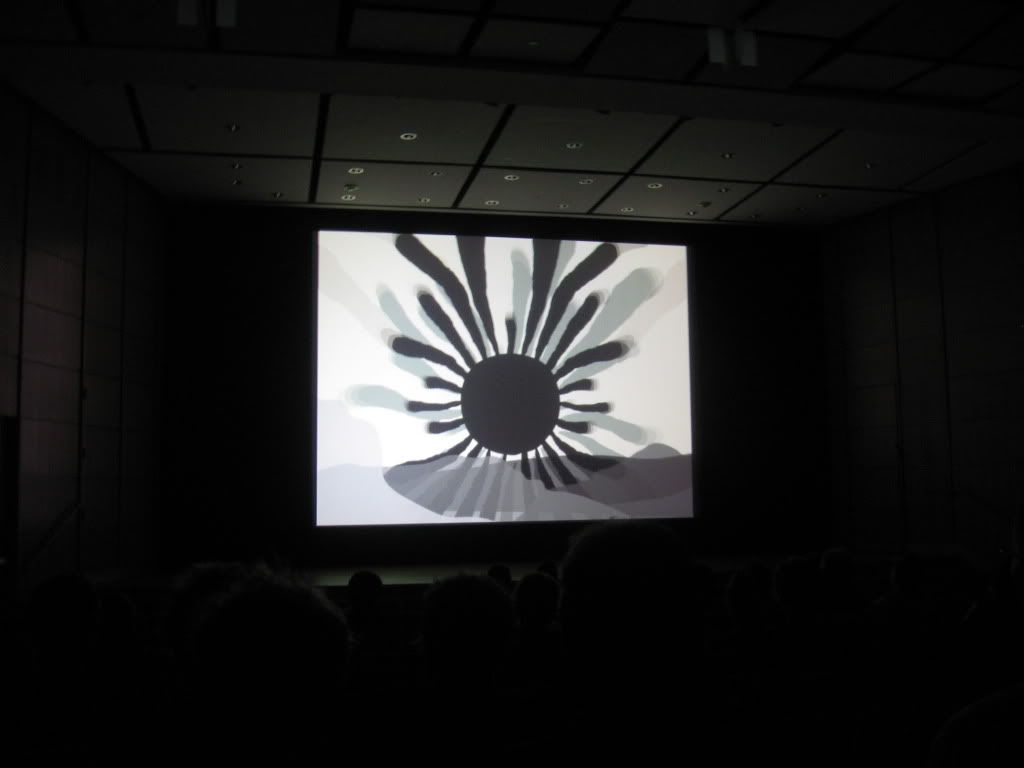 The Melody Owen-curated
Circles and Spinning Wheels
film-short collection, showing at this year's
TBA Festival
, was borne of Owen's travels collecting image and film from around the world, but two of its early highlights were local. E*Rock's "Cherry"
Ratatat
video--Evan Mast of Ratatat is his brother--was, as with most of E*Rock's visual work, exuberant in its childlike simplicity. It began with a sun-over-Nippon fingerpainty animation (pictured at top) and moved on through birds flying, spangled guitarist silhouettes, sun-split frames… actually, heck, just watch it.
[youtube WW8VmSfYLAU]
The other,
To Remember That Our Skies Are The Same Skies,
by Deelay Ceelay's Chris Lael Larson, was one I had previously seen only on DVD in the
Journal of Short Film
—it's a powerfully unified aesthetic piece, held together by Larson's scoring work and by his liberal use of color-drenched time-lapse photography to complement his faux-naïve construction-paper-and-sharpie animations. As always in Portland, child's play is serious business, and the film's eponymous premise—which could have been mawkish, even, in its sentimentality—is allowed to gather emotional force largely because the film's heavy stylization makes the statement (or reminder) not a heavy-handed moral platitude but rather an in-character, voiced mantra.
My other favorite moment of
Circles
was a bravura homage to the musical.
Autogene
, by Peter William Holden, shows an octagonal arrangement of umbrellas, each wired to snap open or shut with an audible click that mimics the click of a Gene Kelly heel to the pavement, as the umbrellas "tap" their way through "Singin' in the Rain." The piece is the filmed version of an installation piece by the artist, but any highbrow intent is lost to a much more immediate jubilance. Sometimes pretty is pretty, and clever is clever, and both are enough.