Phew. Two minutes to tip-off, crappy music blasting, blimp overhead and I've just completed tonight's one-panel comic. It's a little sloppy, and there's no joke involved, but it'll have to do.
Tonight's contest finds the perennially undermanned Trail Blazers matched up against the familiar-looking and perennially underachieving Timberwolves, a team with more than a couple familiar faces on the roster (Martell, Luke and Kev-Love). Seeing as how this Blazer team is prone to playing down to the competition, and this Wolves squad is prone to playing up to theirs, one can't help but think this one will be a game.
You know, I go to A LOT of concerts, and this arena's opening music is louder than any of them. In fact, it's louder (by good measure) than actual concerts IN THE ROSE GARDEN. The ones with the crazy Marshall stacks and the nuts light shows and all that jazz. It's kinda scary how loud this is. And furthermore, no one will plug their ears, because that would be anti-Blazer. That would be like covering your ears during the national anthem. You HAVE to get pumped during the pump-up montage and its accompanying buttrock, and if you don't, you're a very poor fan. I still think they should turn it down.
Boo-hoo, Mr. Cranky doesn't like the young people music. Let's get on with the game, shall we?
FIRST QUARTER
Nic Batum starts things off for the Blazers, but it's Kevin Love's nifty pass to Darko in the paint that gets the oohs and ahhs.
This just in: There is a "free-throw girl." Yes, it's not enough to have a Jim Carey/Mr. Bean-worshipping "free-thow guy," but now we have what looks to be an 8-year-old girl learning the ropes from him. Dreadful business, that.
8:47
Beasley gets to the rim, and this crowd sounds pissed-off rather than disappointed. Their mood is kind of understandable, given the Blazers' inability to keep the Wolves out of the paint, but at the same time, let's not forget that these Timberwolves have, despite their miserable record, been right there with some of the best teams in the league this season. It's not too surprising that they're playing well early tonight, the trick for them is going to be maintaining that energy through the fourth quarter.
7:26
Wes Matthews continues to show fans why he gets paid the medium-big bucks.
6:02
Darko with the soft touch. Very nice, Darko...very nice.
Kevin Love follows Darko's girly hands with a missed one-handed dunk, and the whole arena gets a good chuckle out of it. Have you heard 20,000 people chuckle in unison? It's fucking terrifying! The guys in the truck get a kick out of it too, replaying the miss three or four times overhead. Pretty Sure K-Love will make up for it at least once tonight, even if the Blazers are in control at the moment. Score is 14 to 14.
4:30
Martell checks in for his first game back in Portland, and some dude just yells "MARTELL!" as he's standing at the scorer's table. Oh, it's two guys, and they are wearing shirts with Martell's likeness on them, emblazoned with the words "Downtown Party." I honestly was not aware that Martell Webster had a lingering fanbase here in Portland. I thought everyone had moved on.
3:36
It seems like the theory with these Timberwolves is that five guys with good hands—no matter how ineffectual they are on the defensive end—can move mountains. And it does make for some very pretty basketball...on one end of the court. And while there are some fine individual plays on the other end (i.e. a Darko block or a big K-Love rebound), it's not nearly as fluid a group down there as it is when the Wolves are attacking.
2:37
How could I forget ex-Blazers Anthony Tolliver and Sebastian Telfair? Jesus, this team is all sloppy seconds!
2:12
I have just been informed that the term "sloppy seconds," in some circles, has inappropriate undertones. I have also been informed that using Jesus' name offends some people. I am so, so, sorry.
1:11
Wes Matthews gets no respect. He will...he will.
41.5
A nice little Kobe-move from Rudy Fernandez. Pump-fake, leaning jumper, contact. That's the kind of role someone on this team needs to play consistently with Brandon Roy gone. There are times when this team's offense just won't get going, and usually they attempt to pull through the cold streaks by taking bad shots. But if a guy like Rudy can get to the line a few times each game, not only does it negate a few bad shots, it adds a few free-thows. You see what I'm saying? IT'S WORTH DOUBLE. FOUR-POINT PLAY. In Spanish that's quatro-pointa-playa!
...Actually I think that means four-nothing-beach.
SECOND QUARTER
10:30
Everyone talks about Brandon Roy's knees, and they certainly are sad, frowny faced knees—but Joel Przybilla's knees are just as problematic. The guy looks absolutely horrible out there since his return, and while I hope he's just playing himself back into game-shape, you have to wonder how much mobility and hops are actually going to return. He looks like a 45-year-old man in a Joel Przybilla suit. (As I say this, Joel tips in a ball for two points. Worth noting, I figure.)
8:39
I dare say that when Kevin Love comes back to Portland, he often cracks under the intense pressures his pops has for him. That's the feeling I get, anyway.
Also worth noting that Paul Allen hasn't been around so much as of late. Unless he just moved his chair. Maybe he just moved his chair.
6:16
My team defense takedown might have been premature: Rambis has really got Michael Beasley playing solid D—he was just splitting the difference between a LaMarcus Aldridge double-team and keeping a hand in the face of Wes Matthews, and doing a nice job of it without entirely leaving either man. The spacing was fine, but Beasley is a long dude, and he's learning how to use that length on D. Fun to watch him develop.
5:18
Rudy Fernandez is a generous dude. So when you're running right behind him en route to the opponent's basket, you'd better keep your eyes open. LaMarcus did, and he got a nice little dunk out of it. This time there was no giant, expressionless Eastern European to stop him.
4:12
How about another hand-off for LaMarc? Pretty sure his teammates are trying to get him on the All-Star team.
2:05
The Blazers can't hit a three-pointer, but they're still in this game thanks to that knack for offensive rebounding.
LaMarcus Aldridge gets another nice lob, but he can't connect. The Wolves grab the rebound and they're out to the races until Rudy Fernandez thomps Luke Ridnour at midcourt. Funny, th things that get called flagrant and the things that don't. No one was going for a ball there.
32.1
Rudy Fernandez falls down writhing in terrible pain more than any other player in the NBA. I'm not saying he's faking it, but I think he has a low pain threshold...and a high injury threshold. Better than the other way around.
HALFTIME!
THIRD QUARTER
10:28
We're all tied up here, with a smaller-than-usual Blazers squad (Marcus Camby is out with a sore knee--imagine that, it's his knee) holding its own against the Minnesota starting five. LaMarcus Aldridge, letting out a pained scream, manages to get himself an and-one against Darko, and the next time up he skies (that's a word, right? I've heard announcers say it.) for a high rebound and taps it to his own hand before flushing it home. That's five points in a row for Aldridge, putting the Zers up by the same. He might not make the All-Star team, but he's having a hell of a season.
8:13
I don't know if you folks at home got that Darko Milicic razzle-dazzle, but he did a full-on, Gilbert Arenas-at-the-free-throw-line ball rotation around his body, then caressed a layup off the glass. Who knew something so pretty could come from such an ugly, ugly man!? (You know, he'd be kind of handsome if he smiled every now and again). It's followed by a Wes Matthews three-pointer, and the fans start getting into it.
6:34
Kevin Love will try to "get himself going," as they say, with a couple of free-throws here. He hits both. I don't know if you realize what a strange physical specimen—or, rather, talent specimen—this guy is. How many big, wide players in the history of the NBA have had the soft touch and range that he has. It's one thing when a lanky Euro-freak like Dirk has that kind of skill set, but for this Marc Gasol-looking dude to be able to drain three-pointers and drain mid-range jumpers on the regular is really something.
5:03
LaMarcus, having a couple of shot attempts blocked by notorious second draft pick Darko Milicic, has been rushing his shot a bit all night. But this time he takes it from a couple steps further out, catching D-Train by surprise. Swoosh. That's yours all night, LaMarcus.
Meanwhile, I can't help feeling a little bad for Darko. The guy is actually having a very, very nice game (18 points, all told), but both Joel and LaMarcus are giving him everything they've got, and flopping around to boot. But somehow, it's old Darkhorse Milicic that gets called for every transgression. No respect, I tell ya, no respect whatsoever.
2:49
I wonder what percentage of Gary Numan's personal fortune has come from soundtracking auto show commercials?
1:49
Eeew. Kevin Love hits his first free-throw, then Martell Webster is fouled after rebounding the second. That's three quick points for no real discernable reason. I tell you what, though, on an unrelated note—Nikola Pekovic is a damn THUG! He's so thuggish he gets it broken down: He's a Terrifying, Huge, Ugly Gangster. Or maybe Goblin, but he's kind of too big to be a goblin.
57.6
Rudy has taken to doing air-threes, then following them up with three-goggles. That's 12 points. And he only has eight in the game so I'm expecting great things.
Score is 86-69. Marcus Camby ain't coming back. Greg Oden is on the bench, but not Camby. Don't freak out, Oden's not wearing warmups or anything. He's just looking sad in a nice suit as usual.
FOURTH QUARTER
A friend just texted to say that Pekovic looks like Charles Burns' Big Baby. I thought we'd compare and contrast.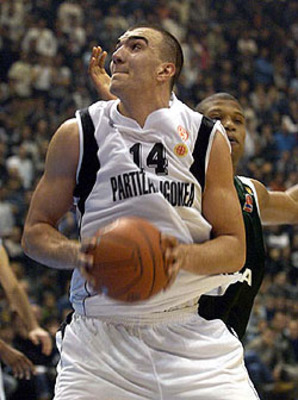 11:07
Minnesota making a little run behind Marty, Wayne Ellington and kin. They've got the Blazer lead down to 12. I'm not even sure when it got up
past
12, but it definitely happened.
9:36
Rudy's got 10, just one basket away from justifying his ridiculous display of finger-signs earlier tonight—but the Wolves keep holding on like a jealous old girlfriend. When Minnesota picks up a loose ball foul and the Blazers get possession again, Andre Miller plays the Patty Mills role—he's first off the bench and high-fiving anyone within slap-range. Nice to see an enthusiastic Miller tonight.
8:10
Rudy hits a corner three to make the lead 13 and give himself 13, as well. He's had quite a productive game, sparking the Blazers late in the second quarter to catch up with the Wolves, and now doing the little things (and some big scoring things) to keep them up. It seems like just yesterday he wanted to go home to Spain.
7:13
6:22
The chalupa chants are on, and I have to look up at the scoreboard to be reminded that we are indeed almost to chalupa time. But LaMarcus misses two free-throws, perhaps in a bidto set up Rudy for the chalupa-three. But no, LaMarcus Aldridge snags it himself. Rudy walks dejectedly upcourt to the sad Charlie Brown music.
5:27
I know you think it's Luke Babbitt time, but it is not. And it's not going to be unless the Blazers can build ten more points into their lead in the next few mintues.
4:08
Aaaaand Nate's right. The Blazers are hemorrhaging points and looking ineffective on the offensive end. Wolves down eight, and there's plenty of time for a comeback. But LaMarcus Aldridge is doing his best to erase that possibility with big rebounding and a big score.
Wes Matthews with the deal-sealing three-pointer to get this lead back up to 13. Nice to see the Blazers playing big down the stretch where it's needed.
3:19
It is far louder in this building than any victory against the Timberwolves has any right to be. But things have been topsy-turvy lately, and this game is a breath of fresh air for Blazer fans.
2:46
Maybe I shouldn't have written Joel off. He knows where to be and he knows how to get in the way. The Thrilla has a key charge, some big rebounds and a nice score late in the game with an assist from Andre Miller. He looks like he's just taking up space, but there are some subtle facets to his game that come in handy, especially on a Blazer team that's short its two best big men.
1:49
107-96. LaMarcus line-watch: 37, 10 and an assist. All-Star numbers. Maybe he'll be a coaches' pick...
1:04
Geez, I want to leave right now. Really surprised so many people are sticking around. Is there a Hoobastank concert afterwards that no one told me about?
20.8
LaMarc buffers those rebound numbers by two. That really makes his stats look better, doesn't it? Going from 37-10 to 37-12? That's a big difference, mentally, for some reason. Anyway, the 37 is a career high, which I find really surprising for some reason. I guess because of Blake Griffin's 47 earlier tonight. Blake Griffin makes just about everyone look unimpressive by comparison. Now that's gonna be an interesting game, that Blazers-Clippers one on Thursday. Wowza, are they playing well all of a sudden.
Blazers 113, Timberwolves 102. Holla atcha boy.
...I don't know why I just said that.