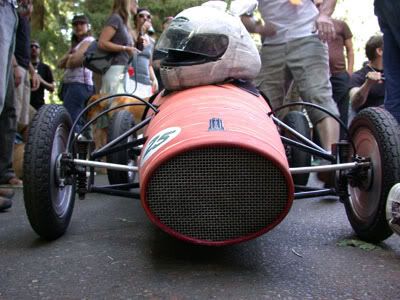 A time-honored tradition in Portland, the
Adult Soapbox Derby
is the one day of the year grown men and women can act like kids again—in other words, they can get wasted and barrel down Mt. Tabor in intricately designed soapbox cars.
But keeping Portland weird takes time and money.
If you want to help keep this quirky, all volunteer tradition alive, you can donate to the cause online.
From now until August 2, the Derby is hosting a Kickstarter Campaign to collect donations as low as $1. Donate $10 and you'll receive a beer koozie; $15 earns you an event poster; $30 will get you a Soapbox Derby T-shirt. If you're feeling really generous, a $100 donation gets you all this nifty merch plus entry to the exclusive after-party. Help the organizers collect $2,500 by August 2 to keep the event safe, organized and fun. They promise they won't use your donations to buy beer.
Portland Adult Soapbox Derby: Southeast 60th Avenue and Salmon Street, soapboxracer.com. 10 am-4 pm Saturday, Aug. 14. Free to watch.