On the night of Sunday, December 2 along Oregon's coastline and in the gorge and hill country, snow fell, wind blew, trees fell, world's tallest
Sitka Spruce fell
, water washed in swells over country roads. The weather felt like the whole of the news, and the news was calamity.
At the
Portland Art Museum
, however, where the
21st Annual Oregon Book Awards
were being held, this news had been markedly attenuated: outside there was merely a breezy fall shower, the biggest problem the parking made difficult by an earlier
Davis Cup
ceremony. But we try not to see this sheltering as a metaphor.
Awards ceremonies are where like-minded people go to congratulate themselves. For the movie and music industries, this congratulation can seem fatuous and redundant. These are not egos in need of our help, and the possible public-relations disaster--should this narcissism get truly out of hand--must be carefully managed with sly we-don't-really-mean-this winks from a harmless-seeming "outsider":
Billy Crystal
, say, or
Jon Stewart
, short, likeable guys with love for the world, with schoolboy sarcasm that doesn't bite hard enough to hurt.
Unfortunately, this is not a problem that literature has the luxury of facing. Just like those in the
dental-device-sales industry
and other obscure endeavors
for humbled egos, writers who are good at what they do sometimes need to feel reassured that it matters what they do, especially when the publishers' sales reports grant highest honors to
Bridget Jones
sequels and ghostwritten memoirs by conspiratorial wingnuts.
So we forgive it when the presenters at the Oregon Book Awards can occasionally seem too portentously well-meaning and adulatory, small-town boosterish to the extent of defensiveness, about the wonder of books and their necessity, and about the heroic saintliness of those who write or sustain them.
Naomi Shihab Nye
, as emcee, hit just the right notes for the crowd, who have much at stake in believing these things.
Still, there is also an added element of fun in writer's award ceremonies, just as at book readings, which is that you get a chance to witness the in-person presence of a very unpublic set of performers, people who often bear little resemblance to the lives or voices in their books, or to the serene confidence in a vetted author photograph.
For
Mark Mizell,
a teacher from
Seaside
who won an
award for encouraging young readers
, seeming nothing like his picture was a lucky stroke. His projected photograph, taken while he was seated, was cruelly cropped at the knees and at the halfway point of his forearm, which made him seem stunted and strangely folded in, like an osteoporetic dwarf. This was not at all true of the man himself, who was energetic, likeable, and fully responsible for the evening's first fart joke. He also told a shaggy-dog about a field trip with students during which the bus driver discovered, gassed up, and drove
Ken Kesey and the Merry Pranksters' old "Furthur" bus
, loudspeaker blaring, much to the consternation of the sheep and goats on the surrounding farmlands.
Kim Stafford,
poet, essayist, and son of renowned local poet
William Stafford
, received a (premature, he hoped) lifetime achievement award that, oddly, also involved the display of a tribal-looking blanket.
Rich Wandschneider
, who presented the award, had told a story about giving a blanket to a tribal elder who had blessed a prior ceremony. Morbid or mordant a person as I am, all I could think about was the smallpox-riddled blankets offered to native tribes by the US Army, a fatal association that may have ruined for me--at least symbolically--the goodwill meant by the gesture.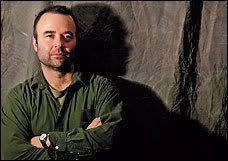 Another interesting moment in the night was the awarding of the
short story prize
to
Charles D'Ambrosio
(above)
,
for one of the stories in his recent collection
The Dead Fish Museum
. One expects this, of course, in a year when Charles D'Ambrosio puts out a short story collection--especially one that's as good as this one is. One doesn't expect it, on the other hand, when the book in question was released more than a year and a half ago, in spring of 2006. This likely has something to do with the deadline for consideration from last year (the book was published 16 days this side of the divide), but it may also be that the people at
Literary Arts
are trying to confuse my sense of time and its passing, and make me question things that I shouldn't.
The
Ken Kesey Award for the Novel
went to
Alison Clement
for
Twenty Questions
, a book I had not previously known and am now in possession of.
The
creative nonfiction prize
was claimed by
Tin House editor Lee Montgomery
, for her memoir
The Things Between Us
, about her relationship with her father.
(Read
WW
's less than glowing review,
here
).
Because she had also written much previously about her mother, she imagined that both of them would now be up in "that great cocktail party in the sky, toasting themselves."
The poetry prize I was more than pleased to see go to a personal friend of mine,
Tom Blood
(above), for his debut book
The Sky Position
. When he realized his name was about to be called, he physically recoiled from the recognition, three full steps, and when the time came offered a bravura display of nervousness at the prize podium, closing his speech with a simple, and humble, "Sorry. I was just kind of spacing out there for a second." The crowd gamely applauded.
Full list of book-award winners below:
Stafford/Hall Award for Poetry
Tom Blood
of Portland
The Sky Position
(Marriage Records Publishing House)
Ken Kesey Award for the Novel
Alison Clement
of Corvallis
Twenty Questions
(Atria Books)
H.L. Davis Award for Short Fiction
Charles D'Ambrosio
of Portland
The Dead Fish Museum
(Alfred A. Knopf)
Frances Fuller Victor Award for General Nonfiction
Garrett Epps
of Eugene
Democracy Reborn: The Fourteenth Amendment and the Fight for Equal Rights in Post-Civil War
America
(Henry Holt)
Sarah Winnemucca Award for Creative Nonfiction
Lee Montgomery
of Portland
The Things Between Us
(Free Press)
Eloise Jarvis McGraw Award for Children's Literature
Shannon Riggs
of Salem
Not in Room 204
(Albert Whitman & Company)

Leslie Bradshaw Award for Young Adult Literature
Susan Fletcher
of Wilsonville
Alphabet of Dreams
(Atheneum)
Photos of Tom Blood accepting the Stafford/Hall Award for Poetry at the Oregon Book Awards by Wynde Dyer.