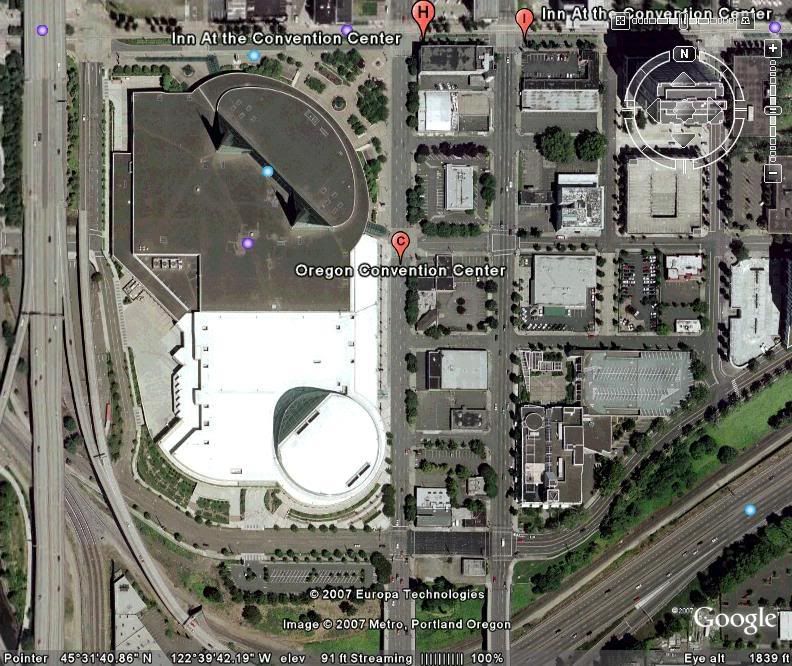 The Oregon Convention Center is a big place. (The view from outer space is here to provide, you know, perspective.) Even a single event hall in that place is bigger than a city block, and the main
Wordstock
hall is, accordingly, a near bewildering welter of options. It's not good enough to say that the fair was a bookstore in disguise—sorted by publishing house and sensibility, say, rather than author and section. It's more like the Anglo-Saxon equivalent of an Arab street bazaar or Brooklyn farmer's market, with all of those venues' aimlessness and confusions but none of the guidance offered by the hucksters exhorting you to come this way or that.
The McSweeney's intern was appropriately young and smiley, of course, and the guy from PGE wasn't ready to let me go without signing me up for wind power (a noble cause, but not one I came for), but in general the representatives from the various publishing houses and colleges and, yes, bead/book craft covens (book jewelry, Christian book beads, beaded bungee bookmarks) were terrifically polite and terrifically timid, as afraid of meeting your eye as the average subway commuter.
Ah... book people. I'm all for it. Even the air felt like home, all dusty with pulp.
On to the show:
11:30 am, McMenamin's Stage: Karen Karbo
The grouping of authors by sponsor, while a hallmark of the age, becomes nonetheless a little surreal when you forget where someone is reading. You think, is Katharine Hepburn (the subject of Karbo's biography) more Borders or more Target?
Not much of a drinker, Ms. Hepburn, but here is her biographer under the McMenamin's aegis, and I'm watching the actress roughhouse onscreen in a montage devoted to her athleticism. I'm here because I'd just watched
The Philadelphia Story
for the first time the night before, much belatedly, and am ready to revise my unpopular opinions.
But mostly I came away with an understanding that life is uncompassionate, as I watched the author, beset by technical difficulties on image after image, clip after clip, begin to apologize and fluster. The book itself seemed breezy enough.
12:30 pm, Powell's Books Stage: Matthew Diffee
Matthew Diffee is a
New Yorker
cartoonist, which is to say he's nervous about his future. Hence this book of his (
The Rejection Collection
), a collection of would be
NYer
cartoons rejected "for being too funny". Diffee structured his "reading" more as an entertainment, inviting audience guesses as to what was accepted, and what rejected—not to mention making me feel sorry for laughing too hard at his intentionally clumsy cartoon of a "horse-drawn carriage".
So I like the stupid. Sue me.
1:30 pm, The Cloisters, Poe Ballantine
My sense of order, of course, was better assuaged by the less-well-attended pay-for-play writer's workshops, in the smaller rooms and back hallways of the world, namely Poe Ballantine's workshop on mining the "lost years." For all his tales of addiction and woe
(501 Minutes to Christ)
it looked like he had indeed left those years behind, and he now exuded the clean-cut and rigorously enforced serenity of the survivor, the born again, the ex-whatever. Audience members--cowed by Ballantine's impressively bad track record as a young man--wondered aloud whether years can be "lost" in trying to be good, and attempted to validate their lack of former drug addictions. Ballantine nodded patiently through it all, listened well, offered sage encouragement.
He's going to be fine
, I thought.
Also, I decided something: the fact that "Liar" and "Lawyer" sound the same in Ballantine's southern dialect is far too obvious a joke to be funny. More of a quirk, really.
3:00 pm, Borders Stage: Tom Spanbauer

Tom Spanbauer
is a hero to a lot of people, local and otherwise, in part for his book
The Man Who Fell in Love with the Moon
, and in part for his espousal of "dangerous writing", the sort where you dig down deep into your own chest, and come back up, bloody-fingered, with all the dirty things that make you most human. That kind of thing.
I can't argue with this sort of philosophy. Reserves of energy and a deep faith in the human spirit are deeply likeable things, and I can't have any respect for anybody who gets their kicks discrediting either. I'm at the reading, however, largely because Spanbauer, whatever his personal charisma, is also quite gifted at lyrical prose. He doesn't disappoint, although he reads slowly and sadly, as if each sentence were an epitaph transformed by his sorrowful baritone into a eulogy. This places an unfortunate, affect-flattening cheesecloth over a piece that I can hear to be otherwise more interesting: conceptually dense, metaphorically rich.
I came back for the question and answer session later to watch Spanbauer and Ehud Havazelet, taking turns agreeing with each other. I think it's genuinely nice when perfect strangers get along so well.
4:00 pm, Borders Stage: Raffle Drawing
Didn't win. Didn't cry.
4:10 pm, Borders Stage: Dark Horse Comics Showcase: Matt Wagner, Shannon Wheeler, Craig Thomson
One is a friend of a friend, one seems to have been out on dates with a friend, and the third unwittingly helped me win a trivia contest. I recuse myself, on grounds of journalistic integrity.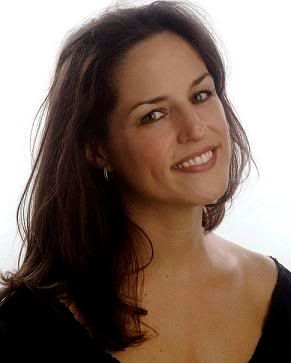 5:00 pm, Borders Stage: Debby Applegate
I'll go out on a limb here and say that Debby Applegate is by far the prettiest Pulitzer winner of the year (with due apologies to the entire staff of
The Oregonian
). She was a bit girlish on the podium at first, avowedly nervous in front of her high-school speech teacher. Thereafter, she launched into an impressively Broadway performance, reading a speech prepared from her twenty years of work spent preparing her biographical-historical work
The Most Famous Man in America.
The famous fellow, if you're wondering, was the Reverend Ward Beecher: Harriet Beecher-Stowe's brother, friend of Emerson, enemy of Thoreau, showman, ruiner of austere souls, likely adulterer, etc.
When asked her next topic, post-Pulitzer, she said she was still taking suggestions. So, given that it took her twenty years to write the last one, this'll give you all some time to become very interesting, and then hold your breath till she comes knocking. -MATTHEW KORFHAGE