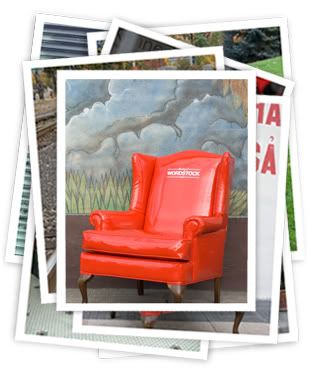 I didn't spend too much time this day on the main floor of
Wordstock
—Portland's annual book and writer's event. The main bazaar took up a large exhibit hall space and was essentially a vast, well-behaved tent party thrown atop rolls and rolls of black carpet and partitioned with curtains.
No, at first I availed myself of a couple of the pay-for-play workshops for writers, held in much smaller, much less intimidating spaces.
1:30
pm, Steve Almond
Steve Almond, a writerly jack of all trades, held a workshop session on getting oneself published. Almond himself was an appealing sort, a guy's guy with the face, if not quite the physique, of a long-beleaguered veteran firefighter. The perspective he offered, accordingly, was that of someone who'd been on the front lines, though not of a fire or major crisis but rather the disappointment, arbitrariness and transience native to the writing profession as a whole.
He, of course, filled in his background for the audience, his early setbacks, humble beginnings, late start, MFA-program rejections, professional compromises. He is one of the more successful freelance writers in the country, so this is a necessary step--it allows the audience to identify his failures with their own, and thus also, potentially, their possible future successes with Almond's present, actual successes. The crowd had paid $40 for this hour-long session and did not want to be told to just
give up
, which is of course the most sensible advice. (He offered this counsel only obliquely, to anyone who felt that they might possibly lead profitable, fulfilling lives otherwise.)
In fact, much of the source of his charm was a near-alarming self deprecation and an un-alarming, Jon-Stewart-style cynicism. He is a practiced public rhetorician--he attends and speaks and teaches at any number of workshops nationwide, an old hand at the circuit--with the urban-folksy gentility of a city youth minister.
As for advice, it took mostly the form of the encouragement provided by experience. Like most writers I'm aware of, he is leery of principles and generalities that were supposed to have any kind of universal applicability. So, you know: cast your net wide, stop being such a prima donna, turn in your stuff on deadline, and develop a near unholy forbearance and tolerance and immunity w/r/t disappointment.
Or just, you know, give up, make more money, be happier... Try it on for size.
2:45 pm, David Sanford
But whatever you do, don't think your agent is your friend, or that having one will save you. He is not, and it won't. They're the brokers, and you're the talent, and that's why they all hate you a little. They're out to make money, not support your art habit. Quoth Almond. Handily there to illustrate this point was David Sanford, an agent, up next at the podium. He looked a little like George Lucas. His recent titles on display included
The Rick and Bubba Code, Matterhorn the Brave,
and a self-help tome called
Wanting all the Right Things.
After apologizing that he only had one hour when he would normally have a half day to cover the same material, Sanford spent the next 15 minutes telling down-home stories about his youngest son breaking windows, or... you know... something or other about his father.
I didn't listen to this latter, I'll admit, because I was too busy gathering my things. The rest of the audience fidgeted somewhat more politely. When he finally arrived at his topic, his style betrayed a deep familiarity with PowerPoint presentations, his speech laced with pauses engineered by rhetorical questions, near-pithy sloganeering, and handy lists lacking only their bullet points.
2:45 pm (also): Ron Carlson
After receiving a hand-out from David Sanford entreating potential book writers to conduct personal marketability research, I exited stage rear and hurried down the hall to catch the last half of Ron Carlson--a writer whose short stories I admire--talking about the elements of craft.
Carlson, like Almond, eschewed the quick-reference bullet points. As a presence, he was a lot like a movie director's idea of a writer, compressed and old-man handsome, with a full head of white hair and clothes suitable for a late-summer's lawn party. One wanted to buy him a martini. He was an engaged teacher, well versed in craft, but obviously, unfortunately, was also used to having a little more time than the hour he was allotted. He seemed genuinely pained at this, as he tried to bring his ideas full circle and failed to get all the way around. He was not the sort to wear and consult a watch.
Also pained was
Jack Hart
, the next presenter, a well-regarded managing editor for the
Oregonian
, who sternly adjusted his wristwatch as Carlson ran slightly over his allotted time slot. Most likely, as the editor of a daily paper, Hart is painfully, intimately familiar with time's finitude and absolute lack of forgiveness. So we understand it when Hart quietly regards Carlson with the glare of a enraged and disappointed father.
4 pm: Adrian Tomine
On to a reading by
Adrian Tomine
in the main hall, a writer of graphic novels released at a literary novelist's pace, one every three or four years. The first thing I noticed at the reading is that--while I hadn't been looking--the audience for comics had radically changed. Seemingly every pretty girl in the building was present, waiting patiently, with still 10 minutes to spare before Tomine arrived at the podium.
This reading had for a while been a matter of curiosity for me. This is not because I've been a long-time fan of his work, which is pleasant enough but for me more of a grazing in the fields of being young and sweet-minded and urban, but rather: how, exactly, does one hold a reading of a comic book?
The answer: you don't. Tomine instead talked about his influences--Clowes (
Ghost World
), obviously being one of them--invited questions from the audience, and talked affably about his insecurities as a draughtsman.
Satisfied, glutted on the free Starbucks hot chocolate mochas and cloying, gritty all-natural Larabar energy squares being handed out on the main book floor, I escaped the fray for the day.
(To be continued) -MATTHEW KORFHAGE