The pandemic has curbed the more grandiose of our vacation plans, but there remains an ocean of recreational thrills at our doorsteps. And let's be frank, if there was ever a time to hightail it out of town to climb some hills, jump in an alpine lake, or take a solitary float down a river, now is that time. And with one trip to the convenience store you will be ready for an authentic Oregonian wilderness fantasy—ie; big adventure fueled by native munchies.
To make your out of town adventures that much easier—we've detailed how to grab a full day of eating, drinking, and imbibing locally produced food in minutes, from your Plaid Pantry—which happens to also be locally owned and operated.
Power Breakfast Hack
All adventure days must begin with a hearty breakfast, and with Portlanders loving brunch, it's no surprise that fashionably late breakfasts are available at places other than cafes with waiting lists. Which is to say, in Portland, a perfectly acceptable, gourmet brunch can be made in a Plaid Pantry parking lot.
Oregon's own Bob Red Mill's single-serve oatmeal cups are just the power grains you need to fuel your day's adventures, and adding a handful of Stoneridge Orchard dried berry mix and a few flavored creamers from the coffee counter can level up this basic hot cereal from normcore nosh to sumptuous morning repast.
Wash it all down with a single bottle of Cascadia Cold Brew; this brew's balance of nutty depth and silky refreshment is an ideal complement to this fruity convenience store brunch.
Charcuterie Lunch Hack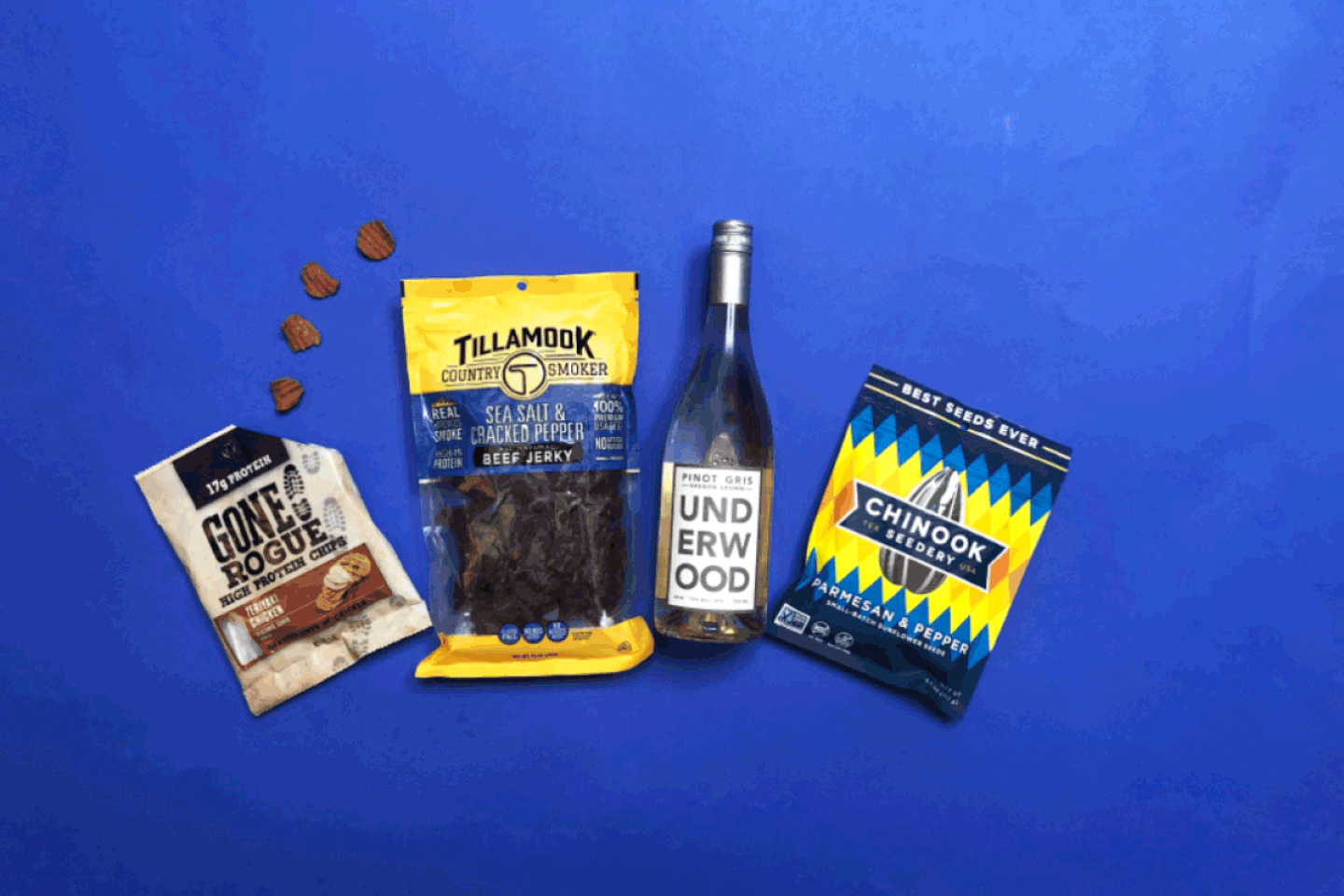 Charcuterie may be a stretch here, but you could easily conjure up some Instagram worthy tableaus with this assortment of salty, protein-powered snacks. Classic Tillamook Country Smoker Jerky is a requisite nature snack, but when matched up with Gone Rogue's protein chips, a smattering of Chinook Seedery small-batch roasted sunflower seeds, a delicate stack of Annie Chun's Organic Seaweed Snacks, and a single serving of Underwood Pinot Gris, you've got editorial worthy spread. And don't forget to hydrate after all these salty indulgences. Water is a must!
Each of these products is small and light enough to easily pack in and out on a day hike and is just as presentable on a rock, a log, or, most realistically, a lap.
Backpack Snack Hack
If picnicking on found slabs of wood isn't quite your thing, maybe smaller, handheld snacks are the way to go. Voke Superfood Tabs are chewable tablets with a proprietary herb blend that has the bombastic vibe of lightning in a bottle (Voke is produced in Vancouver, and their office is right on Sandy Blvd) Similarly, Liv Bars and Keto Cookies are both small enough to fit in a fanny pack but nutritious enough to offer up significant gratification. Together, they'll add just a few ounces to your backpack but will offer sustenance far more substantial than their diminutive sizes would suggest.
If these small pack snack hacks are the hacks that appeal most to your adventure plan, here's a pro tip; nibbling a Liv Bar or Keto Cookie before chewing a Voke Tab will keep your tummy from rumbling as you burn off all that electric energy.
Mini-Dinner Hack
One stop at Plaid Pantry can deliver you a hearty bowl of fruit flecked oatmeal, a savory aesthetic charcuterie platter, cookies, bars, and even some electrifying superfood tablets. But this is Oregon, so no outdoor adventure is complete without a messy sandwich/beer combo, ideally enjoyed while sitting next to your doggo and gazing into a sunset.
At the end of the day, hack your sammie from Portland Sandwich Co. with any charcuterie leftovers, toss your dog a few Max Daddy CBD doggie snacks to calm any inflammation they may have incurred on your adventure, and settle in to bask in the shimmering glow of a summer day well-spent—thanks in large part to all the locally produced snacks you scored from your friendly neighborhood convenience store.
Check out where your nearest Plaid Pantry is so you can swing by for your next meal on the go: plaidpantry.com/store-locator